Improved Drivability | Good Fuel Saving
Car Keys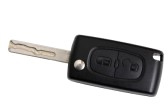 In the past 20 years, vehicle manufacturers have invested millions of pounds on technology ensuring the security of your vehicle. This means that most vehicles built within the last 20 years which have a transponder chip in the vehicle's key, require the chip to be programmed into the vehicle immobiliser to enable the key to work properly. This is a skilled area of work that most garages in the UK, including main dealers, are unable to perform due to the equipment and training required. The cost of this equipment is also prohibitive for most businesses, making your local auto locksmith a very valuable resource.
Our engineers are available 24 hours a day to attend your location, with NO callout fee. Our fully equipped mobile workshops have everything, plus more than 99% of dealerships in the UK, for Eeprom work, immobiliser, key cutting and programming work.
Key Replacement for Lost or Broken Keys
We can replace your lost or broken keys at the roadside, whilst you wait. Have peace of mind by calling our Auto Locksmith if your keys have been stolen.